Technology, Policy, and Early Education in an Election Year
---
The Early Education and Technology for Children (EETC) Conference started in 2011 with the goal of bringing researchers, policymakers, and educators together to further conversations around what works for young children and to inspire innovative change on the behalf of children everywhere.
Now, for the second year, we're excited to partner with NAEYC to present EETC as a special NAEYC conference event! Simply register for NAEYC 2016 National Institute for Early Childhood Professional Development and choose the option to add EETC to your conference schedule—at no extra cost!
---
Venue
EETC will be held as part of NAEYC 2016 Institute at the:
Baltimore Convention Center​, Room 328/329
Why Should I Attend?
No matter what your role is, EETC is for you.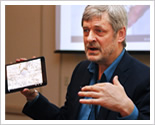 ---
Sign Up to Receive E-mail Updates
Sign up for EETC