Welcome
---
Each year researchers, policy makers, administrators, educators, and solution providers from around the globe come together at the Early Education and Technology for Children (EETC) conference to explore technology in preschool through elementary education.
Benjamin Franklin once said, "an investment in knowledge pays the best interest." Our goal at EETC is to surround you with the research, applications, solutions, and connections that will return dividends to you and the young children you are committed to educating.
---
Why Should I Attend?
No matter what your role is, EETC is for you.
More about NAEYC 2015
EETC 2015 is the first day of NAEYC 2015 Annual Conference & Expo.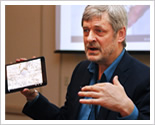 ---
Sign Up to Receive E-mail Updates