EETC at NAEYC Annual Conference: "Health and Safety in a Digital World"
---
Join EETC at NAEYC Annual Conference in Los Angeles for a special conference track with a focus on health and safety in a digital world. Watch a presentation by the American Academy of Pediatrics on their New Media and Young Children Statement, and hear from leadership representing NAEYC, AAP, FHI 360, Erikson Institute and Waterford Institute.
Simply register for NAEYC Annual Conference and choose the option to add EETC as a one-day, special conference track.
---
Venue
EETC will be held as part of NAEYC Annual Conference at the:
JW Marriott, Gold Ballroom 2
Why Should I Attend?
No matter what your role is, EETC is for you.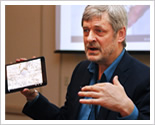 ---
Sign Up to Receive E-mail Updates
Sign up for EETC